To reduce its economic impact, adaptation and mitigation actions are urgently needed. Decision-makers need to understand their benefits and costs compared to not acting at all. This briefing summarises the main assessment concepts, key methods and related challenges and constraints, and provides practical examples of approaches relevant to the EU.
There is an urgent need to speed up the implementation of adaptation measures according to the European Environement Agency – EEA – briefing 'Assessing the costs and benefits of climate change adaptation'. This is due to rising economic losses from weather and climate-related extremes across the EU.
The EEA uses information from reinsurance companies to estimate the economic impacts of climate change. According to these data, the total economic losses from weather- and climate-related events between 1980 and 2021 amounted to more than EUR 560 billion (based on euro values in 2021) in the 27 EU Member States (EU-27). Between only one quarter and one third of these losses were insured (EEA, 2022b). The scale of these losses means that adaptation efforts must be ramped up. Since adaptation investments are primarily publicly funded, the costs of adaptation programmes and their resulting benefits — compared to the costs of doing nothing — must be carefully considered to justify spending and channel resources most efficiently. It is also important to establish methods and gather data to better understand whether investing in adaptation helps reduce economic losses from weather and climate extremes.
Defining costs of inaction and costs and benefits of adaptation action: key parameters for assessing adaptation effectiveness
When assessing the economic aspects of adaptation actions, three parameters should be considered and compared in particular: the cost of inaction, the cost of adaptation and the (additional) benefits of adaptation.
The cost of inaction to prevent losses and damage is the total economic cost of climate change in the absence of planned adaptation — with or without mitigation measures (see Figure 1) (Nicklin et al., 2019). Essentially, it is the 'damages that will result from allowing climate change to continue unabated' (Ackerman and Stanton, 2006). The estimated losses from weather- and climate-related events can act as an initial proxy for the cost of not taking action to prevent losses and damage, both for the past (EEA, 2022b) and modelled for the future (e.g. the Joint Research Centre's Peseta IV project (2020)).
The cost of adaptation is the total expenditure dedicated to adaptation. Sometimes the cost of adaptation is defined as the total investment needs, which refers to the level of investment required to implement all the measures described in a given adaptation plan (national, subnational, sectoral or other). Actual spending consists of the expenditure mobilised for adaptation measures and tracked and categorised accordingly by governments, either annually or cumulatively since the beginning of the planning period. Planned expenditure is those budgets that governments have already committed to mobilising to comply with the adaptation plan but have not yet disbursed.
The benefits of adaptation are commonly assessed by calculating avoided losses, i.e. considering the avoided direct and indirect damage to infrastructure and assets and the avoided deaths and well-being losses. They can also capture the effects on the local economy and the ancillary impacts of adaptation. These include reducing future risks, improving the productivity of unaffected resources and people, boosting innovation by seeking solutions amid new challenges, increasing the environmental benefits and improving ecosystem services.
The ancillary impacts of adaptation can be either positive (co-benefits) or negative (maladaptation) and may or may not include cascading effects. Co-benefits of adaptation include the positive effects on biodiversity, air quality, water management, greenhouse gas emission reductions, and health and well-being. The benefits of adaptation in terms of both climate extremes and slow-onset events — lowering climate change impacts, contributing to positive effects on the local economy and having other positive ancillary impacts — is often referred to as the 'triple dividend' (Bapna et al., 2019).
Maladaptation occurs when an intervention intended to adapt a particular location or sector increases the likelihood of negative impacts on another location, sector or target group (Noble et al., 2014). Maladaptation — for example, investment in air conditioning systems rather than sustainable cooling, or inadequate coastal defences resulting in coastal erosion elsewhere — can cause long-term lock-ins that are difficult and costly to change (IPCC, 2022), and thus should be avoided. The ongoing project Regilience, funded under the EU Horizon programme, investigates what causes maladaptation at the regional level and aims to develop a tool to avoid such risk in future adaptation plans (Regilience, 2022).
To assess the cost-effectiveness and efficiency of adaptation measures[1], we need to understand the costs of inaction and the costs and benefits of adaptation (Figure 1).
Figure 1. Schematic overview of the costs of inaction and benefits of adaptation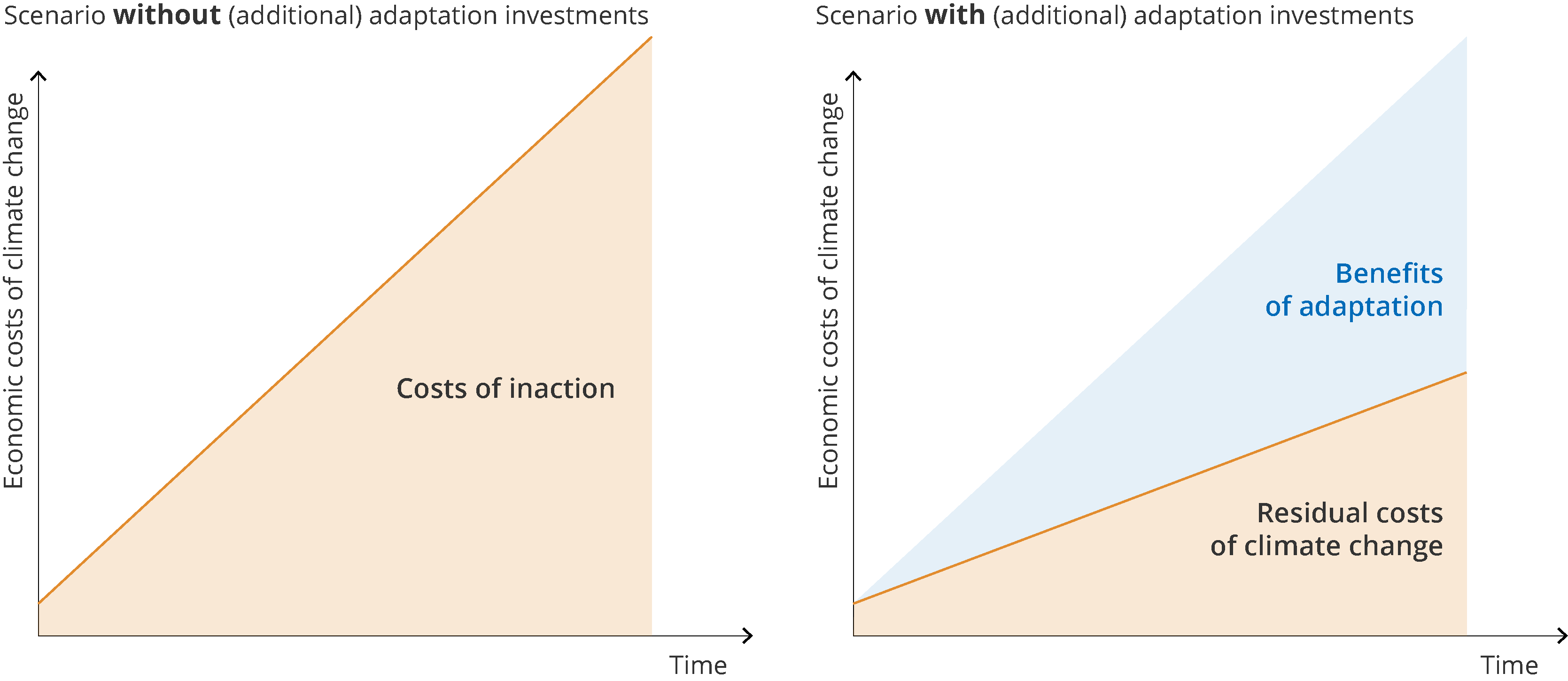 costs & benefits climate change
Estimating the cost of inaction
The first step in defining the cost of inaction is to establish a baseline for inaction, for which the current policy baseline is commonly selected. Using this baseline, climate impact models are run by incorporating socio-economic and climate scenarios to quantitatively estimate the cost of inaction in the absence of any adaptation options (Figure 2). The economic valuation approaches include market approaches, stated preference techniques and revealed preference techniques, depending on the sector considered. For example, a replacement cost method (market approach) can be used for the agriculture sector, while a contingent valuation method (stated preference technique) may be more appropriate for the health sector; meanwhile, hedonic pricing (revealed preference technique) may be more suitable for urban adaptation. A more detailed overview of these methods can be found in the background report to this briefing (Valverde et al., 2022), as can an example from Austria for 14 sectors, under the 'inaction assumption' or current policy baseline (Steininger et al., 2016). This Austrian example, the COIN study, also included a communication strategy that translated the modelling results into fact sheets and narratives to inform stakeholders.
Figure 2. Estimating the cost of inaction based on climate scenarios, climate impacts and economic models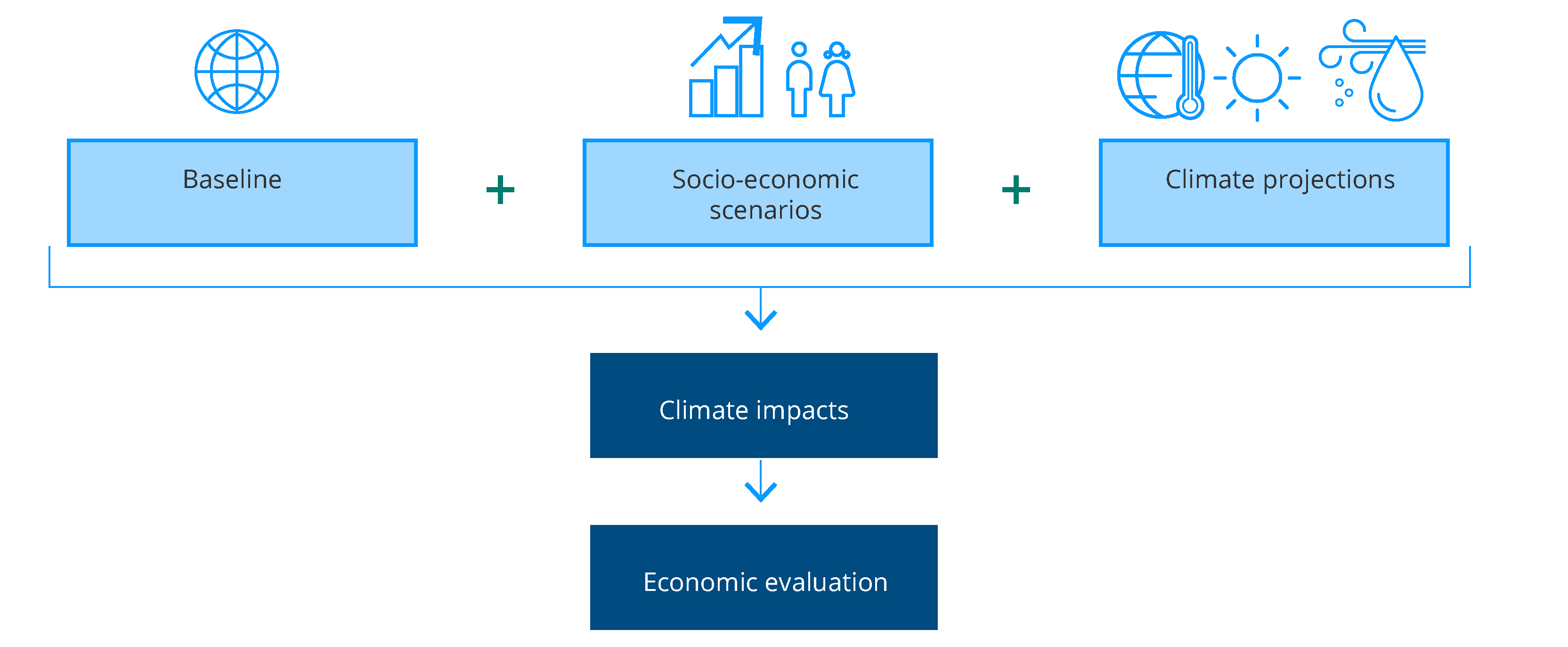 costs & benefits climate change
Estimating the cost of adaptation
The first step in estimating the cost of adaptation is assessing how climate impacts the economy (Figure 3). This has been detailed in thePeseta IV (Joint Research Centre, 2020) and COACCH project (COACCH, 2022). The latter provides a broad overview of the economic costs of climate change adaptation for various sectors using diverse biophysical and economic models.
Figure 3. Steps in estimating the cost of adaptation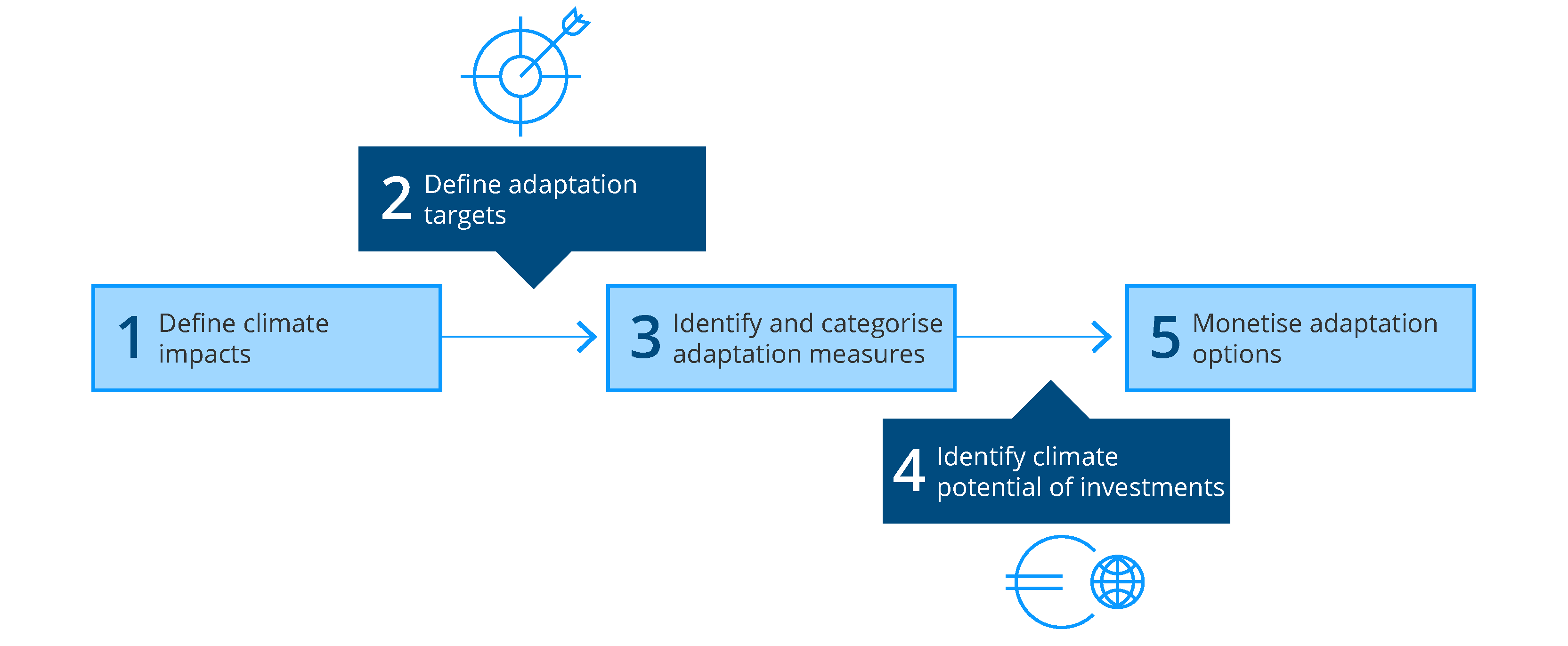 Since not all climate change impacts can be eliminated through adaptation, a decision needs to be made about which economic impacts can and will be managed. In other words, the choice is between avoiding all impacts that may reduce well-being, only those impacts for which an 'optimal balance' can be found between adaptation costs and benefits and inaction costs, or all those to which it is possible to adapt to given budgetary constraints. This choice then leads to defining adaptation targets (step 2).
Next, plausible adaptation options or measures to achieve these targets need to be identified and categorised (step 3). This selection process is influenced by the available financial resources, capacity constraints and pre-existing conditions. Moreover, it may be informed by assessment methods including a benefit-cost analysis, climate risk management approaches and a multi-criteria analysis. A wide range of adaptation options is available, from the commonly-known physical and technological measures to economic or financial measures, or those focusing on adapting people's knowledge and behaviour (see the classification key type measures (KTMs) for adaptation) (ETC/CCA, 2020, 2021). The relationship between (monetised) climate change impacts and adaptation costs or adaptation investments is presented in Figure 4. Adaptation investments exponentially decrease (economic) losses from climate impacts and bigger investments lead to lower losses; however, there will always be costs from residual climate change impacts that adaptation cannot alleviate.
Figure 4. Link between adaptation investments and the economic costs of climate change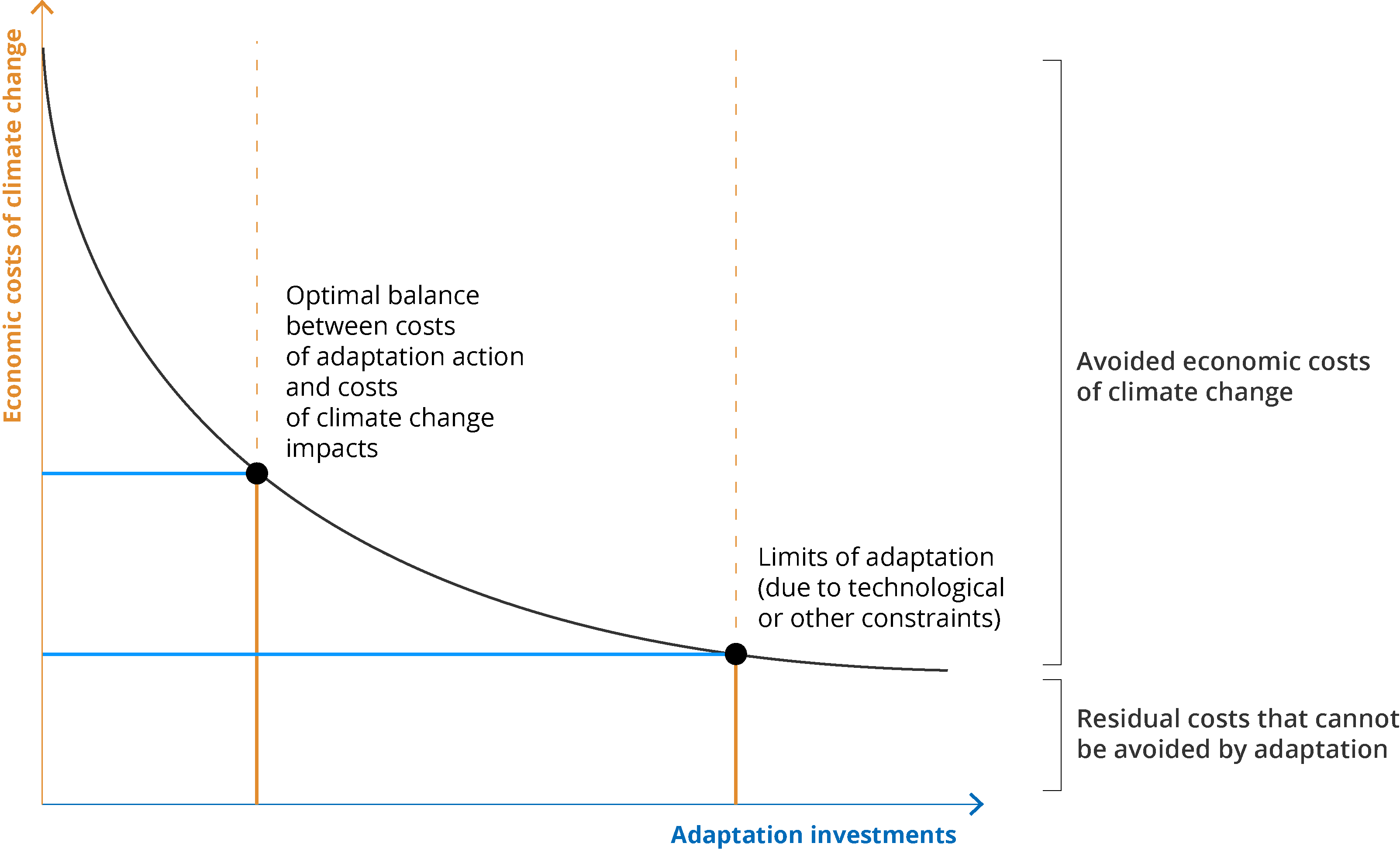 Identifying the potential of investments which do not have adaptation as a primary target (step 4) to reduce the impacts of climate change is beneficial. This is because measures designed to fulfil other primary objectives (such as economic development, poverty reduction and preventive healthcare) can result in adaptation co-benefits. A well-known method of defining the share of a budget that can be considered to be committed for adaptation is Rio Markers. The classification of a substantial contribution to climate change adaptation in the EU sustainable finance agenda can also help define this climate potential of investments (EU, 2021; TEG, 2020a, 2020b).
The fifth and last step is to monetise the adaptation costs, which can be done top-down or bottom-up. Top-down approaches, or macro-economic approaches, can be used ex ante to estimate the costs of adaptation across a region and/or sector without identifying and summarising the costs of different adaptation actions (Valverde et al., 2022). However, these macroeconomic tools only work at larger geographical scales, assuming that adaptation is a highly effective response mechanism, and provide an extremely wide range of estimates depending on the model parametrisation (Valverde et al., 2022). In contrast, bottom-up approaches estimate the costs of adaptation based on the costs of the individual measures in the programme and can be used bothex ante andex post.
costs & benefits climate change
Estimating the benefits of adaptation
The most common incentive for investing in resilience is avoiding losses in terms of direct and indirect damage to infrastructure and assets, as well as preventing deaths and decreases in well-being. One approach to estimating the benefits of adaptation is to compare the residual losses over a period with those in a hypothetical situation in which adaptation measures are not in place.
Compared with the cost of inaction and of adaptation, these benefits are relatively more difficult to estimate in monetary terms. This is because of the randomness of extreme weather events that increases uncertainty around estimating benefits. Furthermore, the benefits of adaptation also include additional economic benefits (see the examples below). These are very visible — for example, in the case of nature-based solutions (NBS) or ecosystem-based adaptation (EbA) — where the increased potential to deliver ecosystem services is an important co-benefit. However, all types of adaptation measures have an ancillary impact. Including those ancillary impacts in benefit-cost ratio (BCR) calculations can change the BCR value substantially and influence the economic feasibility of the measures. In addition, the climate and socio-economic scenarios or time horizon included in the BCR calculations can change the result. For example, for infrastructure projects such as major flood defence systems, choosing a time horizon that does not take into account major periodic maintenance and therefore excludes this significant cost may increase the BCR. In the case of NBS, considering the benefits in the context of a higher greenhouse gas emissions scenario, or a scenario in which the socio-economic challenges of adaptation are higher, can affect the benefits over time. Finally, the choice of discount rate [2] also has a considerable impact on estimating adaptation costs versus benefits.
costs & benefits climate change
Assessing adaptation benefits and costs across Europe
There is no single number reflecting the total investment in adaptation needed across Europe. The BASE study, carried out for a limited number of sectors, estimated the annual investment needed in the EU to be EUR 35-56 billion (BASE, 2015). Studies such as Peseta IV and COACCH estimate the annual investment needs for various sectors by assessing the changes in the cost of inaction over time, considering the climate impacts under various climate scenarios. In the scenario of limiting the global temperature increase to 1.5°C, the estimated adaptation investments are around EUR 40 billion per year (for the EU-27 and the UK). In the scenario with a 2°C global temperature rise, the total investment needs are estimated at around EUR 80-120 billion per year. In the scenarios with an increase of 3-4°C, the investment needs will increase to EUR 175-200 billion per year (Joint Research Centre, 2020; COACCH, 2022).
At the national level, assessments of the costs of adaptation have been carried out for countries such as Austria and France (Box 1); however, the values from these cannot be extrapolated to the European level per year (Valverde et al., 2022).
At the local authority level — considered the bedrock of adaptive actions in the EU adaptation strategy (EC, 2021) — the median budget for adaptation declared by those authorities that are signatories to the Covenant of Mayors for Climate and Energy was EUR 535,000, with wide discrepancies in budgets between authorities (EEA, 2020b). Comparing the signatories with the smallest and largest total implementation budgets, the bottom 20% of local authorities, with a mean total budget of EUR 16,000, had on average 10 planned adaptation actions and had completed two. The top 20% of signatories, with a mean total budget of over EUR 51 million, had on average 16 planned actions and had completed five (EEA, 2020b).
Adapting to climate change requires systemic action across governance levels and sectors to capitalise on synergies among various initiatives and avoid maladaptation. Therefore, the costs and benefits should ideally be assessed at the programmes level of measures rather than at that of individual adaptive measures. All EEA member countries had a dedicated national policy in place in 2022; in addition, many countries have adopted regional and/or sectoral adaptation plans (EEA, 2020a). There is a need to implement, monitor, report and evaluate these programmes of measures. Having an overview of the planned adaptation activities in place covers some of the economic assessment steps in Figure 3. Nonetheless, it is very uncommon to have a national-level overview of the costs of adaptive actions and the actual and planned investment in adaptation. The country reporting under the Regulation on the Governance of the Energy Union and Climate Action in 2021 shows a variety of approaches to reporting adaptation spending per sector by country representatives. This includes information on dedicated national adaptation budgets, EU-funded projects and programmes or transnational initiatives, or a statement that such information is not available (EEA, 2022).
Therefore, there is value in assessing the costs and benefits of individual adaptation measures using approaches such as benefit-cost analysis, cost-effectiveness analysis and multi-criteria analysis (see Box 2). These are described in detail in the United Nations Framework Convention on Climate Change book Assessing the costs and benefits of adaptation options – an overview of approaches, the ECONADAPT Toolbox and the BASE Evaluation Criteria for Climate Adaptation. Despite their limitations, they are well-understood fall-back options for economic assessments. Additional sources and details can be found in step 4 of the Climate-ADAPT Adaptation Support Tool 'Assessing adaptation options'. The costs and benefits of a programme of adaptation measures can be evaluated using the same methodologies. However, the quantitative estimations should be used with care when comparing the costs of adaptation measures across sectors; this is because their levels of detail and completeness might be different and the values might be relative over- or underestimations. All the methodologies applied should be transparent about the data, assumptions and methodologies used to provide reliable results. Under conditions in which equal attention is given to each parameter and the information used is transparent, a BCR of a programme of measures larger than 1.5 is likely to be economically beneficial. Moreover, the set of actions can be optimised by maximising the BCR, as long as the uncertainties and methodological limitations (e.g. the differences between sectors) are taken into account.
costs & benefits climate change
Improving the assessment of adaptation investment
In general, adaptation costs are easier to quantify than the benefits of adaptation or the costs of inaction. Thus, the costs of adaptation might be overestimated. This could lead to reluctance to invest in adaptation measures, particularly in situations where decision-makers are strongly focused on the quantitative outcome and are not well informed about the uncertainty involved in estimating the costs and benefits. On the other hand, including all kinds of qualitative co-benefits that are indirect and uncertain might favour adaptation measures that are neither efficient nor effective. While different tools and methodologies exist for economic and health-related aspects, more could be done to quantify the environmental, social and cultural co-benefits of adaptation measures. Particularly in non-market sectors, a more detailed assessment of the ancillary impacts (co-benefits) will affect the BCR.
Gaining more insight into the actual spending and planned expenditure on adaptation at the national scale would allow better monitoring and evaluation of the cost-efficiency of adaptation efforts across Europe.
costs & benefits climate change
Source: The briefing is based on work by the Frankfurt School of Finance and Management, Rambøll and Ecologic, commissioned by the EEA.