Climate Change Funds
Climate change presents both a risk and an opportunity for investors. Some of the risks include transition risks, which arise with the shift to a low-carbon economy, such as changes in regulation, technology, and consumer behavior. Physical risks often refer to vulnerability in a company's supply chain due to increasing frequency of extreme weather events such as flooding or hurricanes. Opportunities exist, too. Through their portfolios, investors can gain exposure to companies developing innovative solutions to mitigate climate change, such as carbon capture technologies, or to adapt to the impacts of climate change.
Moringstar dig recently into the global landscape of climate-focused funds, map out the products that fit into each category, and demonstrate the growth in climate funds across different markets. This universe of climate funds comprises a wide and growing range of strategies that aim to meet different investor needs and preferences. To help investors navigate what can be a confusing mix of offerings, Moringstar subdivided the universe into five mutually exclusive categories:
Low Carbon and Climate Conscious funds tend to focus on reducing climate-related risks in portfolios (decarbonizing portfolios) and investing in companies that positively align with the transition to a low-carbon economy. On the other hand, Green Bond, Climate Solutions, and Clean Energy/Tech funds target companies whose products, services, or projects directly or indirectly address climate challenges and opportunities.
The analysis highlights the role each climate category might play in an investor's portfolio. For example, funds that invest in climate solutions typically carry certain risks such as sector concentration that make them more suitable as satellite holdings than as part of a core allocation in a diversified portfolio. It also outlines the various sustainable-investing approaches in use by climate funds and explore how well fund portfolios match their climate ambitions using multiple Morningstar metrics.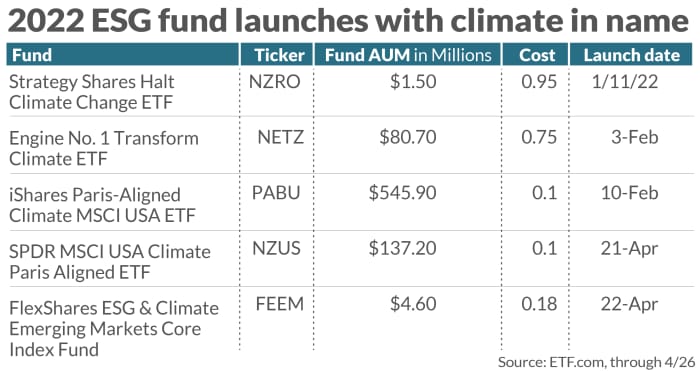 Climate Change Funds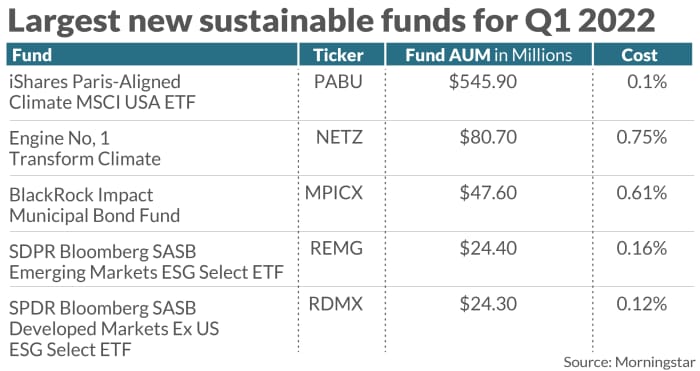 Climate Change Funds
From 'low carbon' and 'clean tech' to 'climate'
A number of the new ESG funds launched in the first quarter use the word "climate" in their names, including the $546 million passively managed iShares Paris-Aligned Climate MSCI USA ETF PABU, +2.80%, and the $80.6 million actively managed Engine No. 1 Transform Climate ETF NETZ, +4.21%.
Now in the current quarter, more climate-named ETFs have launched, including the $137 million passive SPDR MSCI USA Climate Paris Aligned ETF NZUS, +2.77% and the $4.8 million passive FlexShares ESG & Climate Emerging Markets Core Index Fund FEEM, +2.70%.
In April, State Street Global Advisors changed the SPDR MSCI ACWI Low Carbon Target ETF to SPDR MSCI ACWI Climate Paris Aligned ETF NZAC, +2.61%. The group explained the change was "designed to support investors who seek to reduce their exposure to transition and physical climate-related risks and who wish to pursue opportunities arising from the transition to a lower-carbon economy in alignment with the Paris Agreement requirements."
According to Morningstar there are now 555 sustainable open-end mutual funds and ETFs.
Climate Change Funds
Digging into the new funds
The two most similar funds are the iShares Paris Aligned Climate ETF and SPDR MSCI USA Climate Paris Aligned, both of which use similar indexes, MSCI USA Climate Paris Aligned Index and the MSCI USA Climate Paris Aligned Benchmark Extended Select Index. Those are narrower versions of the parent MSCI USA index, a blend of large- and mid-cap companies.
The funds use slightly different descriptions of the fund's strategy, but essentially both seek to align with the Paris Agreement on climate change to limit the increase in the global average temperature to well below 2 degrees Celsius. Both funds cost 0.10% annually, and the ETF Research Center's fund overlap tool shows their holdings overlap 86% by weighting.
The top 10 holdings are similar, including No. 1 Apple, No. 2 Microsoft, right around 8.2% and 6.3%, respectively. That is a heavier weighting than the parent index's, MSCI USA Index, and the SPDR S&P 500 Trust ETF's SPY, +2.39%.
Overall the two funds have six of the same top 10 holdings as the S&P 500 Index SPX, +2.39% and seven of the same top 10 holdings of the MSCI USA Index. Those two funds have heavier weightings to technology and real estate versus the large blend category, and that tech-heavy weighting is also causing those funds to lag their peers, too.
Climate Change Funds
Are the new funds the same as older ESG funds but simply with a new name?
Comparing the new iShares fund with the largest ESG fund by assets, the $22.7 billion iShares ESG Aware MSCI USA ETF ESGU, +2.58% and another big climate-focused fund, the $1.1 billion BlackRock U.S. Carbon Transition Readiness ETF LCTU, +2.53%, shows a little more of half of the new funds overlap the established ETFs by weighting.
The top 10 holdings are similar with all of the funds, but the ETF Research Center's fund-overlap tool shows the iShares climate fund's holdings overlap by 59% compared to the iShares ESG Aware fund. For the iShares climate fund and the BlackRock fund, the overlap is 55%.
A number of the new climate-focused ETFs are actively managed, which makes comparisons to a passive index unfair. But for investors who are willing to pay more in fees and want something different than the market-cap indexes, that's an option. Engine No. 1 Transform Climate ETF costs 0.75% and is considered a large value fund by Morningstar. Its holdings are vastly different from the new iShares climate fund, with only 3% overlap, according to the ETF Research Center. It owns companies the fund managers believe will drive and benefit from the energy transition, including No. 1 holding General Motors GM, +7.45% and No. 9 holding Shell SHEL, +2.68%.
Climate Change Funds
Investors Play a Key Role in the Fight for Climate Action
Despite the tremendous growth seen in climate investing and commitments over the past few years, it is increasingly clear that we need to see faster and more widespread action. In its latest report, the Intergovernmental Panel on Climate Change – IPCC warned that the window of opportunity to take any meaningful climate action is rapidly closing. Ultimately, global cooperation between governments is required to address the full scope of this threat, but the private sector and individual investors can be part of the transition, too.
On the one hand, climate change represents an investment risk that ought to be accounted for in diversified portfolios. On the other hand, investors increasingly have access to innovative climate solutions through opportunity-seeking climate funds. Last but not least, on behalf of investors, asset managers should engage with companies via active ownership and proxy voting to advocate for more robust climate policies.
In this rapidly evolving space, it is still important that investors do their homework. Because many climate funds have a relatively short history, with most launched in the past couple of years, their performance can be hard to assess. Still, investors should understand the funds' investment objectives and how the portfolios are constructed. They should also bear in mind that some climate strategies can result in concentrated portfolios, which makes them more suitable as satellite holdings than as core building blocks in a portfolio.
Climate Change Funds